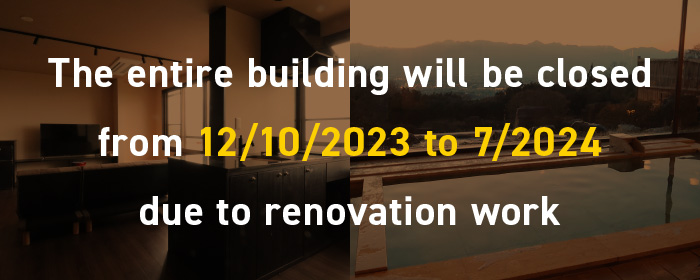 About Akanejuku
Immerse yourself in an authentic Japanese experience with a dining hall filled with beautiful handcrafted folk furniture, a lounge warmed by a traditional hearth, and panoramic view of the Northern Japan Alps.
Brief history
During the Kamakura period of medieval Japan (late 12th to early 14th century), a powerful, local clan erected a mountain castle in the vicinity of the land where Akanejuku Ryokan now stands. The hot springs were not discovered until much later during the early Meiji era (late 1800s), when supposedly a wild monkey was spotted soothing its wound in the spring water. Ever since then, the hot springs of Gakenoyu became popular among the locals who, to this day, will recommend a visit to its healing waters to anyone suffering from nerve pain.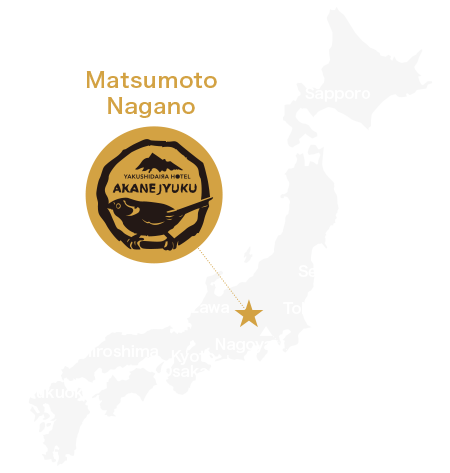 The origin of Akanejuku's name
Just before the sun is about to go down, the mountains of the Japan Alps are often painted in the stunning, deep red of the sunset sky. Catching a glimpse of the crimson-hued heavens while soaking in our open-air bath will practically make you forget all else in the world. It is the beauty of this sunset sky that inspired the name Akanejuku: akane meaning deep red in Japanese and juku meaning inn.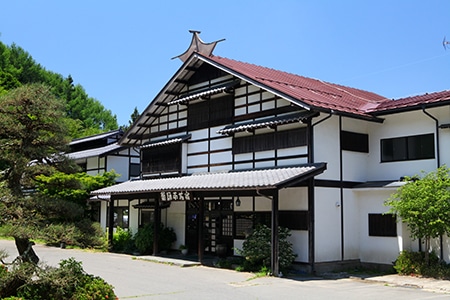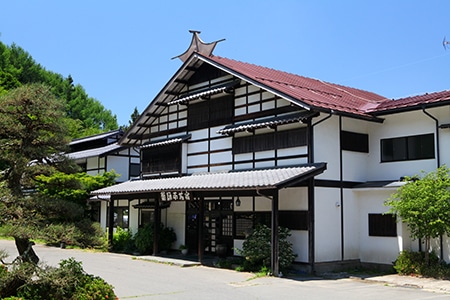 Breathtaking scenery and an authentic Japanese experience
Akanejuku's buildings are composed of a traditional-style Japanese house (one that would have been owned by a wealthy landowner) constructed with thick, sturdy wooden support posts and a wooden structure Gassho-style building which is characterized by its steep roof. You will also find beautifully handcrafted folk furniture throughout Akanejuku. An authentic Japanese experience awaits you here!
Rejuvenate your body and spirit in our natural hot spring baths, enjoy local cuisine made with freshwater fish and edible wild plants, and be enveloped by the refreshing forest air and mountain winds—Akanejuku will make your trip one that you will never forget!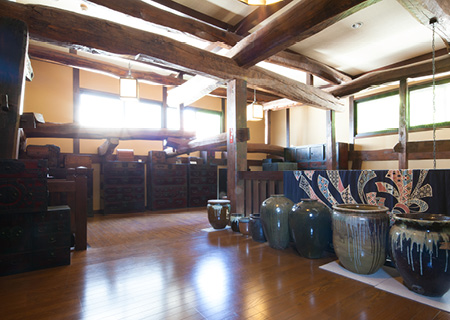 Hot Spring
Akanejuku's rejuvenating hot spring—
Surround yourself in the relaxing green of nature
Nestled in the lush, green mountainside, soaking yourself in our open-air bath will warm your body and spirit to the core.
Panoramic View Indoor Bath and Open-air Bath
The hot springs of Gakenoyu have a history of over two hundred years. It is said that a landslide created the spring in the 13th century and the waters are known to be beneficial for nerve pain and gastrointestinal disorders.
Beneficial Effects
Nerve pain, muscle pain, joint pain, frozen/stiff shoulders, motor paralysis, stiff joints, bruises, sprains, chronic gastrointestinal disorders, hemorrhoids, oversensitivity to cold, recovery from illness, fatigue, health improvement, cuts, burns, and chronic skin diseases.
Day visit bathing
(Panoramic View Indoor Bath and Open-air Bath)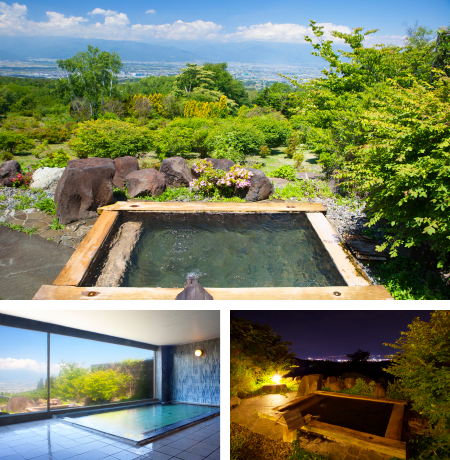 Bathing fees
| | |
| --- | --- |
| Adults (JHS and up) | ¥700 |
| Children | ¥400 |
| Children (1 years old and under) | |
Reception and bathing hours
1. Weekdays and Sundays:
Reception 11:00 a.m.–4:00 p.m. (Bathing until 5:00 p.m.)
2. Saturdays and holidays:
Reception 11:00 a.m.–1:00 p.m. (Bathing until 2:00 p.m.)
3. Long weekends, Obon holiday, and around New Year's Day:
Available will be the only guests staying at this hotel.

Body wash, shampoo, etc. are available at no extra charge in the bath.If needed, you can buy small face towels or rent large bath towels at the front desk.
* For customers coming for a short day visit, please limit your bathing time to around one hour and only one trip to the bathing facility. If you would like to spend extra time relaxing and make two or more trips to the bathing facility, ask about our "Day Trip with Room Included" plan (reservation required).
* Please note that due to natural environmental conditions, the exact temperature and water quality of the hot spring may change and, at times, we may experience some unexpected problems.
Meals
Delicious, seasonal meals topped with superb hospitality
The gastronomic elegance of kaiseki ryori cooked with local, in-season ingredients accentuated by Japanese folk crafts.
Enjoy exquisite Japanese-style meals in a traditional Japanese house characterized by thick wooden posts, exposed ceiling beams, and warm, handcrafted lights.
Full course kaiseki ryori featuring local specialties
Using locally sourced ingredients from Nagano, all meals are prepared with the utmost care by Akanejuku's chef.
Horsemeat sashimi, steaming hotpots, dishes featuring edible wild plants, local freshwater fish specialties, and handmade soba (buckwheat noodles)—Indulge in the bounty brought to you by the four seasons of Japan's mountain valleys!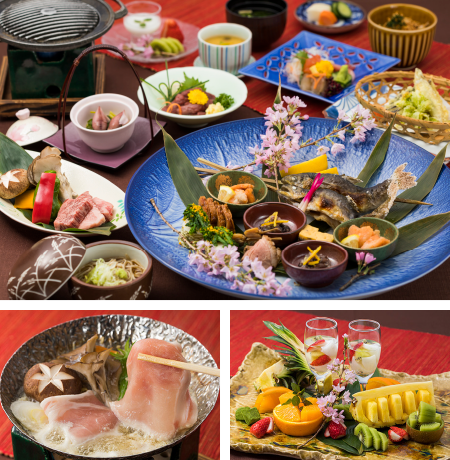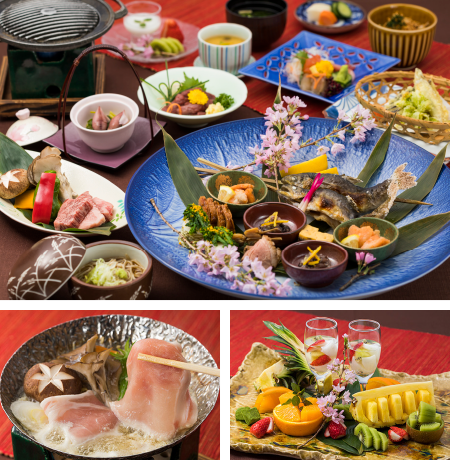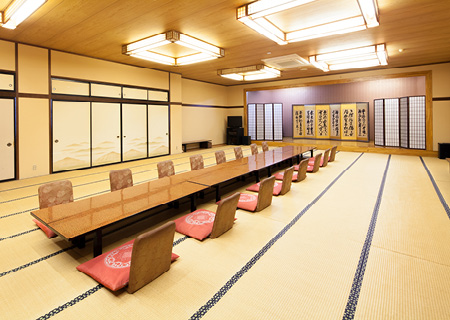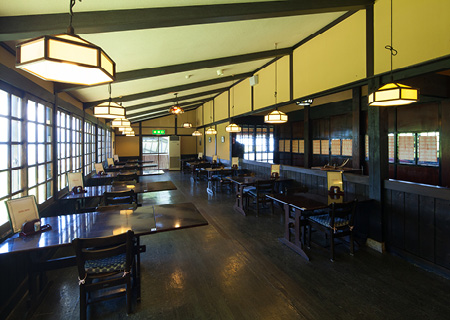 Gassho-an Folk Craft Dining Hall (moved to Akanejuku and reconstructed)
Rooms
Relax to your heart's content with a panoramic view of the Japan Alps
◆Main building
10 Japanese-style rooms (8 rooms with private toilets)
◆Annex
11 Japanese-style rooms (4 rooms with showers, 1 room with private bath)
3 Western-style rooms (with private baths)
2 mixed Japanese/Western-style rooms
◆Room features
TV (basic channels at no extra charge), refrigerator, tea-making set, telephone, air-conditioner/heater
◆Amenities
Towels, bath towels, toothbrushes
◆Loungewear
Yukata provided for your comfort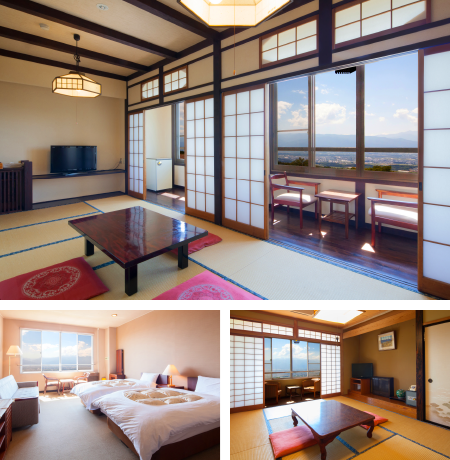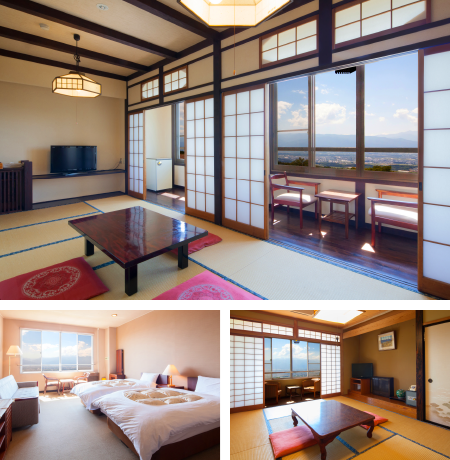 Tour of Akanejuku
Traditional Japanese houses with thick, wooden beams and Gassho-style architecture
With folk craft furnishings scattered throughout the premises, discover an authentic Japan at Akanejuku.
Handcrafted furniture and jars of liquor-steeped fruit embellish the ryokan's interior, recreating the warm, rustic atmosphere of Nagano's traditional houses.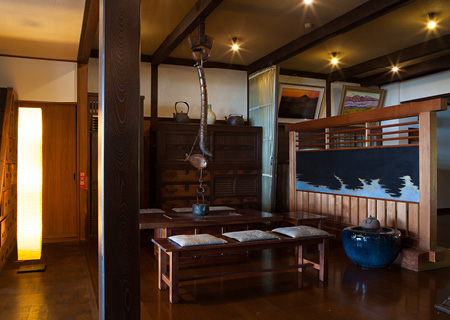 Lobby
The lobby's furnishings and decor are reminiscent of a beautiful, old country house in the mountains. Each and every piece of the longstanding zelkova tree boards used for the ryokan's entrance is highly valued.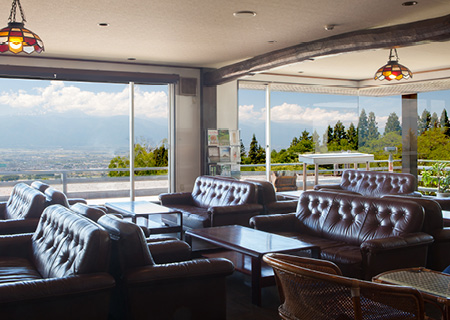 Overlook Lounge
See amazing, panoramic views of the Northern Japan Alps and the Matsumoto Basin directly from the expansive lounge windows.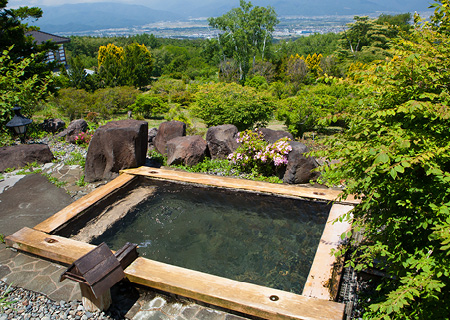 Open-air Bath and Indoor Bath with Panoramic Views of the Japan Alps
Take in the unforgettable scenery of the Japan Alps' 3000-meter high mountain ranges and sparkling, nighttime cities of the Matsumoto Basin below directly from our hot spring baths. At night, the open-air bath also offers you an unobstructed view of the starry night sky.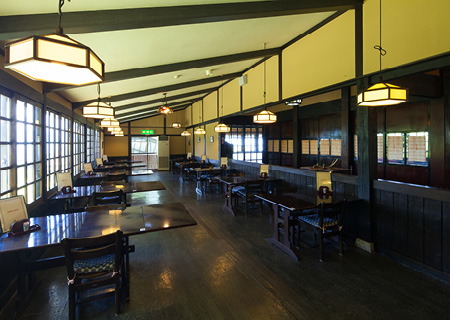 Folk Craft Dining Hall
At Akanejuku, you can experience the rustic, country-style cooking of Japan. Enjoy the flavors from the mountainous countryside with our traditional local foods, freshwater fish specialties, handmade soba (buckwheat noodles), and dishes featuring edible wild plants.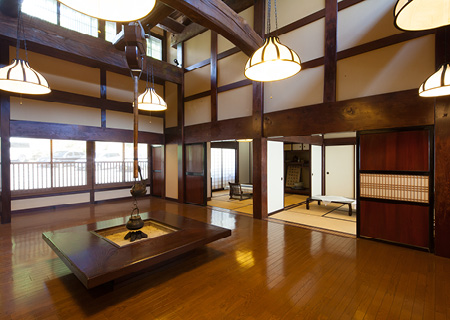 Chiyuan Multipurpose Space
Feel free to use this space to relax after enjoying your meals. There is also a quiet Japanese-style tatami room that makes a perfect place for informal get-togethers and meetings, as well as a larger space that can be used for small concerts, exhibitions, and other such events.
And, don't forget to take a look at the innkeeper's special gallery!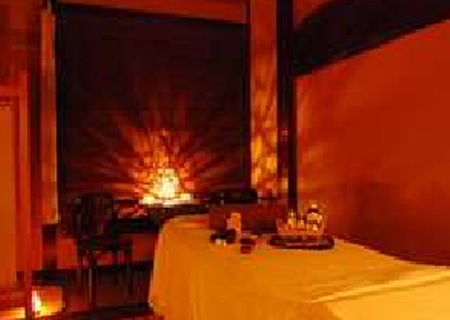 LOVE BREEZE Aromatherapy Room
British aromatherapy treatments with pure essences extracted from trees, flowers, fruits, and other plants.
Partial body aromatherapy treatments:
Wood Course: ¥6,000 + tax (40 min), choose from back, legs, arms, or neck & head treatments.
Facial treatments:
Flower Course: ¥4,000 + tax (30 min), includes cleansing and essential oil massage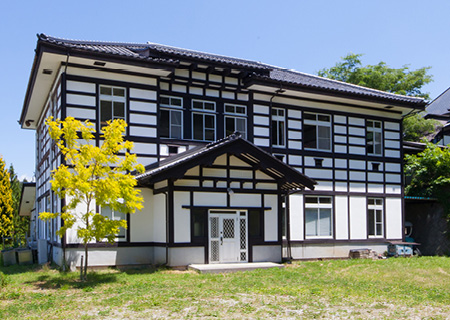 Akane Hall (A 19th century building moved to Akanejuku)
Formerly used as a police station, the structure was moved to Akanejuku and converted into a meeting hall. It is now used to host events such as concerts and classes. (100 seats total)
Dog Run
With our spacious dog run, you can bring your four-legged family members along and enjoy the time at Akanejuku together.
Access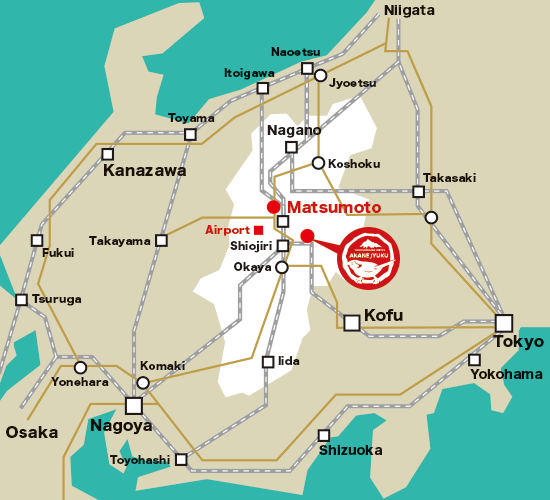 Access to the Matsumoto area from major cities
From Tokyo
By train

Shinjuku – JR Ltd. Exp. Azusa (2 hrs 30 min) – Shiojiri/Matsumoto

By bus

Shinjuku Bus Terminal – Expressway bus( 3 hrs) – Matsumoto Bus Terminal
From Osaka/Nagoya
By train

Osaka – Shinkansen (1 hr) – Nagoya – JR Ltd. Exp. Shinano (2 hrs 30 min) – Shiojiri/Matsumoto

By bus

Osaka/Nagoya – Expressway bus (6 hrs/3 hrs) – Matsumoto Bus Terminal
From the Hokuriku area
By train

Kanazawa/Toyama – Shinkansen (1 hr–1 hr 20 min) – Nagano – JR Ltd. Exp. Shinano (45 min) – Matsumoto

Taking a taxi from the station

About 30 min. from JR Matsumoto Station to Akanejuku
About 25 min. from JR Shiojiri Station to Akanejuku

Taking a bus from the station

From Matsumoto Bus Terminal, take the Matsubara Line bus from Platform 4 and get off at the Chushin Matsumoto Byoin bus stop. We will pick you up from here. *
* Note: Reservation is required for pick-up service from the bus stop. Please contact us before getting on the bus.
Sightseeing Guide
Matsumoto in Nagano Prefecture—History, nature, and the four seasons of the Japan Alps
A trip unlike any other: With Akanejuku's hot springs and warm hospitality, there couldn't be a better way to enjoy the Matsumoto area.

Akanejuku
3405 Uchida, Matsumoto, Nagano Prefecture
Sightseeing Nearby
Takabocchi Highlands

2 hr hike

Mt. Hachibuse

2 hr 30 min hike

Gofukuji Temple

15 min by car
Sightseeing in Matsumoto and Shiojiri
Matsumoto Castle

15 min walk from Matsumoto Station

Nakamachi (Cafe Senri)

10 min walk from Matsumoto Station

Alps Park

45 min by car

Utsukushigahara

1 hr 20 min by car

Norikura Highlands

1 hr 30 min by bus from Matsumoto Station

Shiojiri Winery Tour

20 min by car from Shiojiri Station

Kiso Samurai Trail Narai Post Town

About 1 hr 30 min by train from Matsumoto Station

Matsumoto Country Club

3 min by car

Enrei Country Club

20 min by car
Sightseeing in the Greater Area
Azumino (Wasabi Farm, etc.)

30 min by train from Matsumoto Station to Hotaka Station

Karuizawa

2 hrs by car

Tateyama Kurobe Alpen Route (Kurobe Dam)

About 1 hr 40 min by train and bus from Matsumoto Station to Ogisawa Terminal

Hakuba

About 1 hr 40 min by train from Matsumoto Station

Lake Suwa

About 30 min by car

Zenkoji Temple

2 hrs by train from Matsumoto Station

Kiso Samurai Trail Tsumago Post Town

1 hr 30 min by train from Matsumoto Station

* For tourists from overseas ↓↓↓

This is sightseeing at Matsumoto Information web site
It supports 8 languages. You can choose the language on the site right upper part of the black tag.